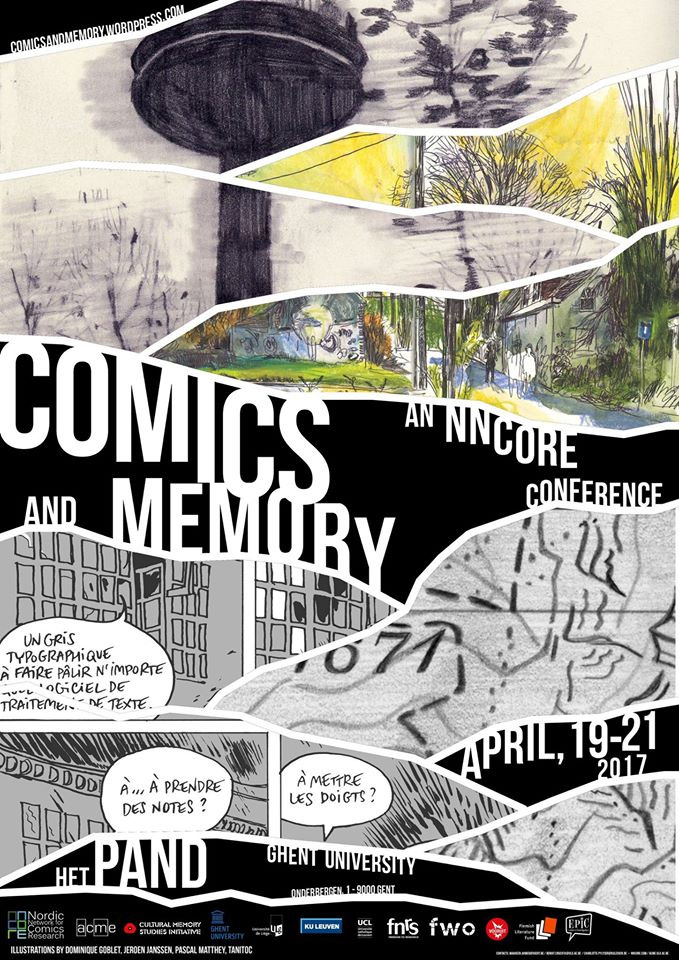 Komende week ligt het episch centrum van de strip weer even in Gent. Van 19 tot 21 april gaat de eerste editie door van Comics and Memory in Het Pand en in de Vooruit.
Comics and Memory is een internationale NNCORE conferentie aan de Universiteit van Gent, in samenwerking met de KU Leuven, UCL (GRIT) en de Universiteit van Luik (ACME comics onderzoeksgroep). De conferentie onderzoekt de complexe relatie tussen de strip en het geheugen door het prisma van de persoonlijke, collectieve en mediale praktijken van het herinneren. Keynote speeches door Mel Gibson (Northumbria University) en Claire Gorrara (Cardiff University)
19-21 April 2017- Club Het Pand (Onderbergen 1, 9000 Gent)
https://comicsandmemory.wordpress.com/
Voortbouwend op het dagprogramma van de conferentie, streven de avondlijke rondetafelgesprekken naar een bredere discussie met verschillende actoren uit de stripwereld. In die rondetafelgesprekken komen oa cartoonisten, schrijvers en acteurs met een praktische ervaring in de stripwereld aan het woord.
19 April 2017, 19h30 – "Drawing Memories: Artists' Talks" met Dominique Goblet, Jeroen Janssen, Pascal Matthey Tanitoc.
20 April 2017, 19h30 – "The Memory of Comics In and Out of the Institutions" with Philippe Capart, Roel Daenen, Simon Grennan, Gunnar Krantz, Pascal Lefèvre en Roger Sabin
Kunstencentrum Vooruit (Sint-Pietersnieuwstraat 23)
zie ook https://comicsandmemory.wordpress.com/roundtables/
De Franse tekenaar Tanitoc zal voor Pulp deLuxe zorgen voor een getekend verslag van het evenement.
---